Cheerleading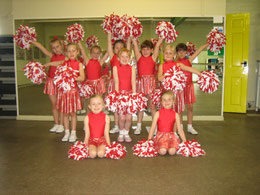 Cheerleading classes are fun, exciting sessions with a mix of dance styles fused together.  Influences include from jazz, street, Latin and even ballet.  The cheer technique used is based on the traditional American style approach to cheerleading.
Dance styles are up-beat and funky to modern chart music and also cheerleading music.  Cheerleading dances use syllabus moves combined with modern dance moves. 
Classes include a fun dance warm-up, a stretch to increase flexibility, fun routines, cheers and chants plus the opportunity to learn all about the history and technique of cheerleading.  In class we practice to perform for different events such as, shows, galas, rosette awards, medal tests and other performance opportunities.
We have a junior and senior class and nformation about class times can be found by clicking here.  Uniform information can be found here.