Uniform

Dance Class Uniform:
Black sleeveless leotard – 'Angela' for under 8 years and 'Ellen' for over 8 years
Black circular skirt (up to and including Grade 1 Ballet and Tap)
Dance school hoodie* (with school logo) or Pink crossover cardigan
Pink ballet socks or pink ballet tights
Black jazz pants (to be worn over ballet tights for jazz and tap - optional)
Pink hairband (optional)
Long hair to be worn off the face (preferably in a bun or French plait)
Pink ballet shoes (please check with teacher where to sew elastic)
Black tap shoes
Black jazz shoes
Musical Theatre Uniform:
Black loose trousers
Black t-shirt with School logo* 
Black pumps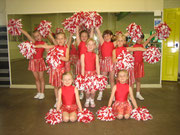 Cheerleading Uniform
Junior Classes
Red lycra sleeveless leotard with turtle neck
Red glitter circular skirt (from Yorks Dance Supplies, Pontefract)
White pumps
Plain white ankle socks
Red and white plastic poms
Senior Classes
Plain white short sleeved fitted t-shirt
Plain red lycra circular skirt
White pumps
Plain white ankle socks
Red and white plastic poms
Pom poms are ordered from www.firstpom.com
Other cheerleading uniform parts are available from Yorkshire Dance Supplies, Ropergate, Pontefract.

Adult Dancing Classes
Please feel free to wear loose, comfortable clothing that is suitable for your class.  Footwear should be as appropriate for your class.  If in doubt, please ask your teacher! 
A number of our adult dancers enjoy wearing the official dance school hoodies and zip-up tops, which available to purchase.  Please see your teacher if you are interested.
Uniform Supplies:
*Dance School Hoodies available from your teacher.
Other dance supplies available from Yorkshire Dance Supplies
(based at: Albert Lee, Ropergate, Pontefract)