Principal and School Profile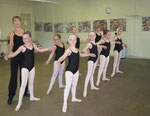 The Leydon-Smith School of Theatre Dance was established in 1980 by Principal Katherine Leydon-Smith, FIDTA.  Initially classes were held in Ackworth, near Pontefract, but then moved to Pontefract Squash and Leisure Club.  The School name was created from the Principal's maiden name (Leydon) and married name (Smith).  Katherine Leydon-Smith is a Fellow of the IDTA.
Kath started dancing in a Nottingham School at the age of 10 and moved to Pontefract in 1960.  She continued to dance for with the Brenda Briggs School of Dance for two years and then moved to Doreen Senior.  Kath started assisting Doreen Senior at the age of 14 and took her first teaching examination at age 17 in Stage Branch, now known as Theatre Craft.  Subsequently Kath completed teaching examinations in Ballet, Tap and Modern Dance.  
After attending Art College Kath worked as a Knitwear Designer and at 21 took on a professional dancing role - first as a Bluecoat/Dancer in the UK and later moving to Madrid, Spain, to dance in a well-known theatre.  Kath returned to Pontefract, married in 1973 and then taught for Doreen Senior (Pontefract) and the Andrea Ferebee School in York.  In 1975 Kath inherited a dancing school in Doncaster, where she taught for five years, before establishing the Leydon-Smith School of Theatre Dance in 1980.
The School holds a major variety show 'Live Show' every three years at Pontefract Town Hall and all money raised is donated to local charity.  Students who attend the Cabaret Class perform an annual cabaret and various ad hoc performances.  Proceeds raised from the cabaret go towards funding 'Live Show'.